مقابلات وحوارات
On the Limits of Knowledge and Science – An Interview with Timothy Williamson
Interviewer: Reda Zedan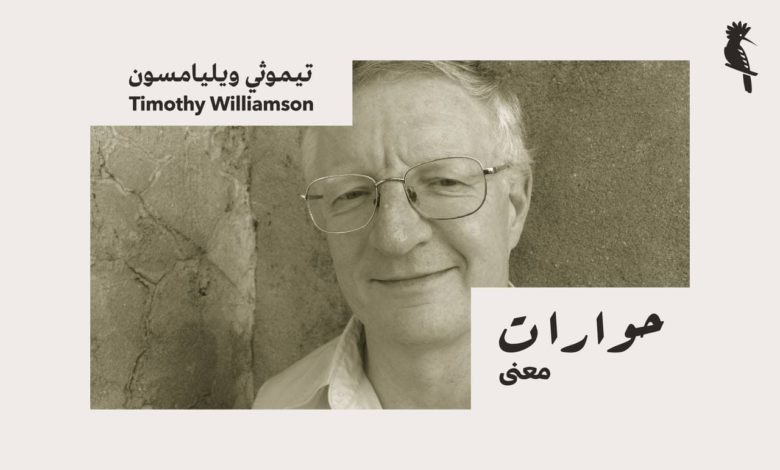 Let us start with an introductory overview, could you tell us, in brief, about your academic career, your former teachers, your main research fields, and how did you evolve philosophically
TW: As an undergraduate, I studied Mathematics and Philosophy at Oxford University (1973-6). Then I did a doctorate in philosophy, also at Oxford University, on the idea that scientific theories can be better and better approximations to the truth, even if they never quite get there. My supervisors were the philosopher of science Bill Newton-Smith and the philosopher of logic, language, and mathematics Michael Dummett. Afterwards, I was a lecturer at Trinity College Dublin, in Ireland (1980-88) and then returned to Oxford to teach there for some years, before becoming the Professor of Logic and Metaphysics at Edinburgh University, in Scotland (1995-2000). I started my current position as Wykeham Professor of Logic at Oxford in 2000; it is the same position which my former teacher Michael Dummett also held. Since 2018 I have also taught for five weeks a year as a visiting professor at Yale University. My main research has been in philosophical logic, philosophy of logic and language, epistemology, metaphysics, and metaphilosophy (on the methodology of philosophy).  I don't think I have changed very much as a philosopher over my career. I have always been interested in the same sorts of question about reality, knowledge, and the gap between them. My outlook has always been strongly realist: most of reality is as it is independently of what anyone thinks about it. My style has always been to do philosophy within a strong framework of formal logic, using a mix of formal and informal methods. Perhaps the main way in which I have evolved philosophically is by becoming more systematic. Over the years, what I think about different philosophical questions has become more and more integrated and unified.
The slogan of your epoch-making book, Knowledge and Its Limits (Oxford, 2000), is "Knowledge first", Could you explain that for us
TW: The slogan means that in explaining cognitive matters we should start with the distinction between knowing and not knowing, rather than with the distinction between believing and not believing, as had been usual in Western epistemology for most of the 20th century. More generally, we should understand things not going well (for example, cases of ignorance and false belief) as deviations from things going well (for instance, cases of knowledge). In particular, we should understand belief as a state like knowledge, but possibly defective in some way. That is to explain belief in terms of knowledge. By contrast, many philosophers want to explain knowledge in terms of belief. One can think of knowledge as the positive category and belief as the neutral category. Analogously, on the practical side, one can think of intentional action as the positive category and intending as the neutral category. Sometimes, when you have belief, you also have knowledge, but sometimes you don't, just as sometimes, when you intend to do something, you do it, but sometimes you don't. On my view, one should also explain intending in terms of intentional action, not intentional action in terms of intending.
Are there any similarities between your critique of internalist/Cartesian picture of the mind and later Wittgenstein's critique of private language
TW: Like Wittgenstein, I reject the internalist picture of the mind as an inner world that can in principle be understood independently of the external environment. That rejection follows from my "knowledge first" approach. When you know something about your environment, for example that it is hot outside, that mental state intrinsically depends on its being hot outside. But I don't accept Wittgenstein's critique of private language. Even a totally isolated creature may know that it is hot outside its cave. Wittgenstein's argument goes wrong because he assumes too close a connection between a mental state and the possibility of verifying that someone is in that state.
Your doctoral thesis was on the philosophy of Karl Popper (in particular, "verisimilitude" notion). How did Karl Popper's philosophy influence your view of the relationship between science and philosophy and your criticism of the narrow use of the term naturalism
TW: The idea of verisimilitude came from Popper but my doctoral thesis was mainly about developing my own non-Popperian account, not about Popper's work.  I found his robustly realist attitudes refreshing and healthy, but some of his philosophy rather crude. He distinguishes science from philosophy because he uses his criterion of falsifiability to demarcate science but not philosophy. His account of falsification is inadequate because scientific theories typically make testable predictions only when supplemented by auxiliary hypotheses, so if the prediction turns out false, the problem may be with an auxiliary hypothesis rather than the theory itself. Thus falsification is much less straightforward than he implies. Often, scientific theories are falsifiable only in a much looser sense. Philosophical theories might be falsifiable in that sense too. In my view, philosophy is a science, but not a natural science like physics or biology. Other examples of non-natural sciences are mathematics and history. They are systematic and rigorous in their own ways, but they are not based on experimentation. The term 'naturalism' leads to much confusion, because it is left unclear whether mathematics is being counted as a science when we are told to emulate science. Science is a much narrower ideal, and one inappropriate to philosophy, if science is restricted to experimental science.
Could you explain, why the standard accounts of justification have failed to deal convincingly with the traditional problem of the regress of justification
TW: What justifies the justifiers? The traditional problem of the regress of justification is to find a suitable starting-point for chains of justification. We seem to need a self-justifying, self-evident starting-point. But philosophers can find some way of doubting any starting-point. If there is no starting-point, we have circles or infinite chains of justification, none of which really justify. The trouble is that justification is conceived too much in terms of winning an argument against all opponents, no matter how unreasonable. Some opponents are so crazy, so willing to deny anything, that not even the most reasonable person can win an argument against them, and there is no point in trying. In my view, anything we know is good enough to start with, even if it does not convince crazy guys.
What role does logic play in solving philosophical problems apart from the philosophy of mathematics? In general, what is the relationship between logic and philosophy nowadays
TW: Both philosophical logic and the philosophy of logic are part of philosophy. Philosophical logic is a branch of logic concerned with philosophically motivated questions in logic. The philosophy of logic is a branch of philosophy which studies questions about logic: for instance, questions about how we know logical laws. Different types of philosophical logic are used to provide a formal framework for studying questions in different branches of philosophy: epistemic and doxastic logic (the logic of knowledge and belief) for epistemology, modal logic (the logic of possibility and necessity) for metaphysics and the philosophy of religion, deontic logic (the logic of permission and obligation) for moral philosophy and the philosophy of law. More generally, in any branch of philosophy, one can use logic both to test the validity of arguments by translating them into a formal language, and to derive consequences from philosophical theories. In philosophy, logic is never irrelevant.
We know that you are against reducing all human knowledge to physics, despite your insistence on the existence of a philosophical methodology, so how can a philosopher be to some extent free from the physical model
TW: Physics has much to teach us, but so have mathematics, psychology, and history. Together, they remind us that different questions often require different methods for answering them. Few philosophical questions can be answered by doing experiments, though experiments in psychology cast light on, for example, the philosophy of perception. Einstein's theory of special relativity is very relevant to the philosophy of time, and the way physicists use criteria such as elegance and simplicity to determine which physical theories are best has lessons for how to determine which philosophical theories are best. What is so narrow and damaging is to treat physics as the only model for philosophy.
You said, "discussion of philosophical methodology is itself part of philosophy", and you avoid the term 'meta-philosophy', Can you summarize your argument against the view that meta-philosophy is not part of philosophy ("the second order version")
TW: I don't mind using the term 'metaphilosophy', because it is shorter and more convenient, as long as it is understood that metaphilosophy is part of philosophy. Metaphilosophy studies topics such as the epistemology of philosophy, which is part of general epistemology, the semantics of philosophy, which is part of general semantics and so part of the philosophy of language as well as of linguistics, and the metaphysics of philosophy, which is part of general metaphysics. Thus metaphilosophy is the philosophical study of philosophy. If those general connections are forgotten, metaphilosophy becomes just a vehicle for prejudices about philosophy.
How can your brilliant equation Knowledge = Evidence be a response to skepticism
TW: Many skeptics argue that we can't know that we are not in a skeptical scenario (for example, where we are brains in vats) because our evidence is the same whether we are in the skeptical scenario, the bad case, or the good, normal case, because things appear the same way in the two cases. If our knowledge is our evidence, then evidence doesn't just depend on appearances. For instance, in the good case you know that you have hands, so your evidence includes that you have hands, while in the bad case you don't know that you have hands, you only think you know (because you don't have hands), so your evidence does not include that you have hands. On this non-skeptical view, you have more evidence in the good case than in the bad case—part of what is bad about the bad case is that, in it, you have less evidence than you seem to have. Skeptics cannot argue that you have the same evidence in the two cases without begging the question against that view of evidence.
Olav Gjelsvik said, "Williamson has argued for a view that is not different from Quine's regarding the relationship between the analytic and the non-analytic, and in doing so, committed himself to far fewer controversial assumptions than Quine did", Do you agree with his description of your position? Please explain to us the differences between you and Quine about this issue.
TW: Yes, I think Gjelsvik's description is fair. The main difference between me and Quine about this issue is that he is a skeptic about meaning in general, while I am not. Quine's skepticism is based on a behaviourist approach to language; since semantic distinctions cannot be reduced to the behavior of language-users, he treats those distinctions as hopelessly unclear. His skepticism about the analytic-synthetic distinction is just one application of that attitude. Noam Chomsky's arguments (especially in his review of B.F. Skinner's book Verbal Behavior) made such behaviourism obsolescent. Quine ignored the fact that non-behaviourist semantics is a thriving branch of scientific linguistics. What impresses me is that although modern semantics is a successful study of meaning, it gives no significant role to the analytic-synthetic distinction. Philosophers have tried to explain the analytic-synthetic distinction using the idea that understanding a word in some sense requires you to accept 'platitudes' involving that word. I argue that there are no such special preconditions for understanding. A theorist can reject any of those platitudes, on (possibly misguided) theoretical grounds, while still understanding the word. A language is, amongst other things, a forum for disagreement, on any statement on which its speakers want to disagree.
You said, "Much contemporary philosophy is "normal philosophy", building on assumptions without questioning them; then the history of philosophy plays only a minor role" (Philosophical Method: A Very Short Introduction, 2020). Are there examples of "revolutionary philosophy"?
TW: I assume you mean contemporary examples of revolutionary philosophy. Saul Kripke's Naming and Necessity clearly had a revolutionary effect on metaphysics and the philosophy of language, as did John Rawls' A Theory of Justice on political philosophy. More recently, some of Kit Fine's papers have had a revolutionary effect on metaphysics. Miranda Fricker's work on epistemic injustice helped open up the area of political epistemology. I leave it to others to judge how revolutionary my own work has been.
Common sense has a clear role in your philosophy, and you make it a starting point for philosophy. How can you overcome the known problem that common sense differs from one society to another
TW: There is much common ground. For example, I know of no society where it is not common sense that there are different kinds of plants and animals. There are also common sense methods, such as sense perception, which are common to all societies. Although science may identify some perceptual illusions, it would be impossible without extensive reliance on sense perception. Common sense is our starting point, but from there we can get to somewhere better by applying it to itself in a critical, systematic, and careful way, in a process of self-improvement. That is how natural science developed. We can do the same in philosophy.
What is your current work in progress? Looking ahead, which themes or ideas you hope to work on
TW: Right now I'm finishing a draft of a paper integrating my knowledge-first approach with my view (developed with the Yale philosopher Jason Stanley) that knowing-how is a special case of knowing-that. I've also started work on a paper about whether logic is the study of validity in arguments. A few days ago, I started planning a paper on the role of imagination in understanding alien cultures, based on the experience of anthropologists. I have a paper in draft which defends moral realism on broadly semantic grounds. There are always new questions to write on, I just need the time to do it.
What are the hobbies that help your curious mind to concentrate in this age where we are surrounded by distractions everywhere
TW: I love walking in the mountains, in recent years mainly in Scotland, either by myself or with family or friends. It is a rest from philosophy: you have to concentrate on where to put your feet so you don't fall. Unfortunately, at my age (66), spending most of my time working as a professor, and finding most other exercise boring, it is hard to keep fit enough for occasional visits to the mountains. At home, I like to read novels, especially realistic ones (unlike many philosophers, I dislike science fiction). My favourite novelist is Jane Austen, one of the greatest writers of English prose, as intelligent, clear, and precise as the best philosophers, but with more irony and wit. She sees the moral significance of even the smallest human actions. I have read each of her novels many times. Recently I have been enjoying the detective stories of Georges Simenon, who wrote enough to keep me going for years. When I return to philosophy, I enjoy talking and writing it so much that I have no difficulty in concentrating.